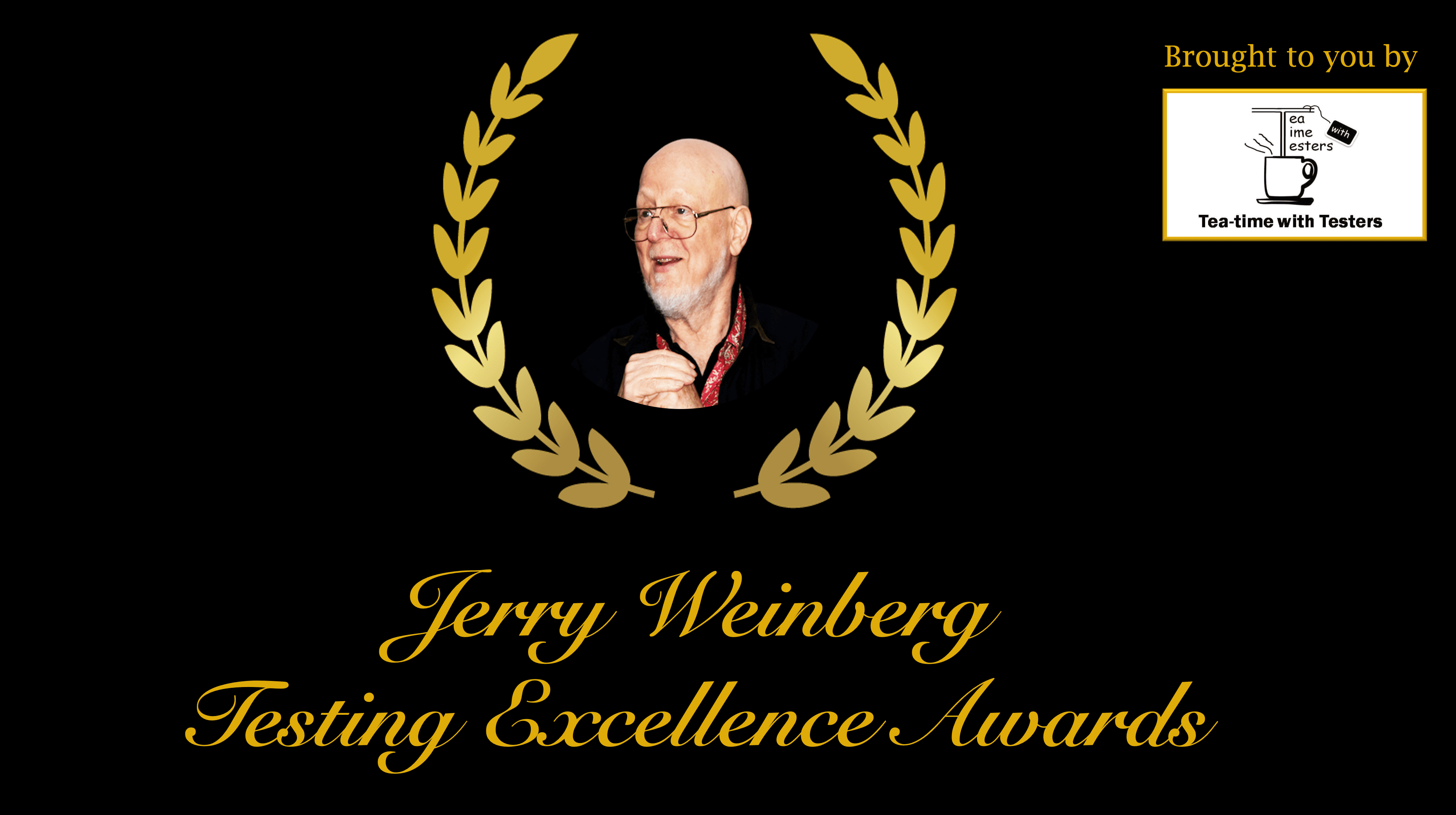 Jerry Weinberg Testing Excellence Awards
Lalit, 2 years ago
0
2 min

read
4867
Tea-time with Testers is immensely pleased to make this announcement. This is something we have been wanting to do for quite some years and we are glad that we are finally doing it. 
We are delighted to make yet another contribution to the testing community. And this time it is software testing awards.
Why new awards while there are already quite some?
The better question is, why not?
Actually, that's the answer we got for ourselves when we decided to start Tea-time with Testers while there were already quite some magazines on market. We listened to our inner calling and did what we felt was the right thing to do. And so here we are, doing it once again with the software testing awards. 
Presenting "Jerry Weinberg Testing Excellence" awards. 
If you are our regular reader then you might be aware of the long association we had with Jerry and how much influence he had on what we delivered over the last decade. 
What could be the better way to honour Jerry and celebrate good testing together?
Through his feedback and regular reviews of the issues we published, Jerry taught us the importance of recognising good work and creating a platform to promote good testing. 
Through these awards, we want to recognise and reward worthy people who we think deserve to be known by the global testing community. So that it inspires actions and encourages others in taking the craft of testing ahead. 
What will be the nature of these awards?
We have some categories in mind.  A person's work and contribution to the testing community would be our key criteria. Our team is working hard to make these awards as special as we can. 
We will announce these awards every year in our December issue. The awardees will get a trophy and a certificate that we will send them via post. The most important part is to recognise these people and help their ideas reach more people. And we are committed to delivering on that. 
We already have done our work for the year 2021 and we will announce the awards in the December 2021 issue of Tea-time with Testers. So if you have not subscribed yet then go for it. 
A very special thanks to Jerry's wife and a great companion Dani Weinberg who saw value in this initiative and has been a great supporter of this idea. 
Jerry was very generous with his time to help smart people go ahead in life. We were privileged to be gifted with his association with us. And these awards in his name are our humble efforts to pay it forward. 
We are thrilled to make it happen and super excited to see you all joining this celebration! 
Sincerely yours,
Lalit
Lalit
CEO, Chief Editor & Co-founder of Tea-time with Testers magazine. Software Testing and Quality Evangelist | Quality Management Consultant | Community Builder | International Keynote Speaker | Director at Association for Software Testing |
Related posts