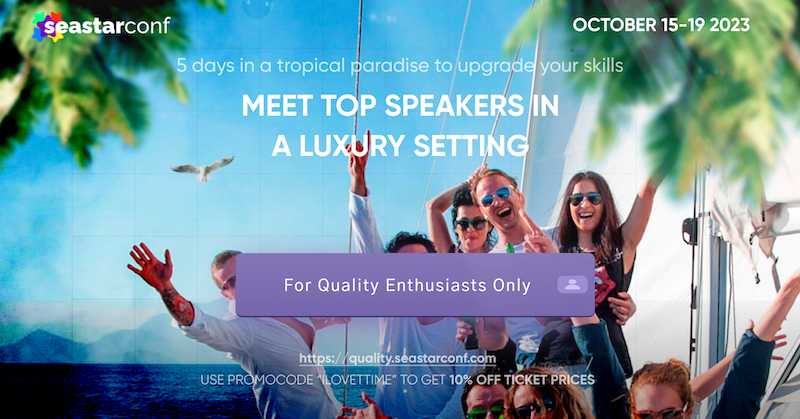 Introducing SeaStar Quality
Lalit, 11 months ago
0
6 min

read
2613
Introducing SeaStar Quality conference – which explores the role of software quality in the context of the modern world. We welcome all IT professionals whose goal is to develop their products and services to stand out in a competitive market and win the hearts and loyalty of their customers.
Discover emergent trends and practices in Agile, Software Testing and Quality Assurance, DevOps, Information Security and Quality Engineering, Leadership and Management. Lay your hands and eyes on latest technologies and immerse yourself in the thought leadership of others in 5 unforgettable days on tropical paradise island in the Caribbean.
Keynotes, Workshops, Sessions, Discussions, Games, Open Spaces and All-Inclusive 5-star resort Activities Program from early mornings to the late nights.
About the organizer:
A Quality Leadership Institute, founded by Anna Royzman in 2015, is a non-profit US organization whose mission is to become the world-leading advocate for quality in technology. The organization reaches this goal by developing innovative programs on software testing and quality for the tech community, leadership, and educational institutions.
One of the AQLI Programs is Test Masters Academy, the organizer of ground-breaking conferences in New York: Test Leadership Congress and ConTEST NYC, and multiple online events. We have made the list of best global software testing conferences for several years in a row, starting in 2018, based on the TestBeacon ranking.
Our conferences attract participants from the leading brands: Audible, Ebay, Microsoft, Amazon, JP Morgan Chase, IBM, Twitter, Badoo, GrubHub, Citibank, Emirates Airlines, to name a few – from over 25 countries.
The company's founder, Anna Royzman, is well-known in Test/QA and Agile space, as a keynote speaker, a thought leader, and a community builder. She has served on the AST Board of Directors and STPCon Community Advisory Board, held the Conference Chair role for CAST and TestBash NY, organized several peer workshops, and is the International Track Chair for TiD, the largest software testing conference in China. Anna is the receiver of the Jerry Weinberg Testing Excellence Award.
About SeaStars Conferences:
In the past three years, the professional space has undergone drastic changes in how we work, communicate, take care of our physical and mental well-being, and how to learn.
All these changes required a different type of conference experience, and thus the concept of SeaStars (pronounced as "see Stars") conferencing was born. It's a hybrid of every best thing we tried – "the Conference 3.0"
SeaStar conferences introduce a wholistic experience for the attendees through its unique program, where they will learn from the experts, meet the innovators, exchange and discuss new ideas with their peers, and strategize their professional challenges and development while relaxing and having fun in the most welcoming exotic place that is invigorating all the senses, – and all of this on the budget.
About SeaStar Quality:
Our pilot conference SeaStar Quality in this new format will be scheduled for October 15-19, 2023.
Expected participants: Quality Engineers, DevOps Engineers, IT leadership, Software Test and QA professionals, Software Developers, Test Automation Specialists and Architects, Technology Evangelists, Agile Coaches, Scientists and Academic Scholars, Business Owners, and C-level Managers.
The participants will discover the latest trends, tools, and practices in Quality Engineering, Continuous Delivery and Software Testing and Test Automation, learn from the experts and innovators, exchange ideas with their peers, and come home equipped with the Action Plan for personal and professional development, with the practical steps to drive their organizations to the new levels of product/service quality and customer satisfaction.
The program highlights:
Famous popular speakers' sessions and tutorials: we picked speakers based on surveys from community focus groups and also invited the most popular presenters from our past conferences. All of them are industry thought leaders, tech evangelists, and innovators. 90% are renowned keynote speakers.
Certification training "Quality Conscious Software Delivery". Introducing the most advanced Quality practices for the whole team, based on the award-winning framework (EuroSTAR Best Paper 2022 award).
Experience reports from winners of Best in the Industry Awards 2022. To find the best innovators of the year in our professional community, we established The Star Quality Awards. These awards honor companies and teams that have attained significant accomplishments in their field of expertise. By participating, teams and individuals will be recognized for their great work, their quality mindset, and for being a driver of excellence and a role model for the whole industry.
We selected 6 areas in Awards nominations:
Best DevOps Project of the Year
Best Startup Quality
Best Collaboration in Delivering Quality
Best Testing/QA Project of the Year
Best Test Automation Project of the Year
Best Vendor of the Year
Our competition will open on February 1st, 2023 to companies and teams from all over the world. The winners will be invited to present at the conference.
The program focus is on today's practices and preparing for tomorrow. Exploring the future challenges and opportunities, how the work will need to change, and the emerging technologies. We emphasize leadership mindset and thinking outside the box.
Community Day – the free day for Discussion Circles and Birds of Feather meetups. We allocated the whole day to this activity, as we consider the group discussions, networking and ideas exchange to be very valuable for the attendees.
Strategy group sessions that allow the attendees to maximize their conference experience and come home with a solid Action Plan in the area of their interests. The Strategy sessions are facilitated by our expert coach speakers.
Hands-on technology labs, games, and competitions – the "secret sauce" of Test Masters Academy conferences. These events differentiate us and make our conferences memorable.
Morning to late night entertainment and activities Iberostar hotel program that leverages the attendees' experience.
The experience highlights:
The place: Dominican Republic, an exotic tropical country on the Caribbean shore. We selected the Dominican as it's one of the most popular tourist destinations, accessible from all over the world. There is a lot of infrastructure created for tourism, it's safe and less expensive than US hotels. For most countries, no entry visa is needed, and no travel overheads.
The venue: award-winning 5-star all-inclusive beachfront resort Iberostar Costa Dorada in Puerto Plata. 3 pools, several restaurants with amazing cuisine, excellent friendly service, good coffee, free drinks, Kids Camp, activities during the day, hot Latin dancing, and live entertainment at night. The hotel rates for attendees are $81-$125, it's all-inclusive. Families are welcome to attend. The resort is incredibly health-conscious and creates a very safe environment for the guests.
Remote work: free strong internet covering the whole resort that is important for the attendees and for their managers. You can work from the beach, or from any other place on the resort territory.
The size: the conference is limited to 300 participants, speakers and sponsors included. We selected this format to provide more opportunities for face-to-face networking and camaraderie, based on our past experiences with similar formats, and to give our sponsors additional opportunities for interactions with attendees.
The ideal environment for team building activities – is for the teams who work remotely. Our experts and hotel team will create an unforgettable experience with special sessions, tours, and activities, tailored to the team's needs.
Lalit
CEO, Chief Editor & Co-founder of Tea-time with Testers magazine. Software Testing and Quality Evangelist | Quality Management Consultant | Community Builder | International Keynote Speaker | Director at Association for Software Testing |
Related posts